Unparalleled Capabilities Within the Industry
"In a world of mediocrity, Sunshield in form, function and execution, has set itself apart from the masses"
Our company has become the standard to which others have been compared. We provide service and consultation to the most recognized museums, private collectors, and homeowners worldwide.
The proprietary method by which we apply our product is quite unique and thus unable to be duplicated. The result is a completed process which cannot be distinguished in both integrity and quality from the original underlying glass.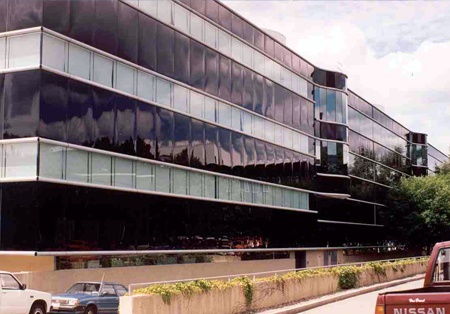 Corning called upon Sunshield to provide viable solutions to bring inflated utility costs down to a manageable level while simultaneously correcting the building's exterior aesthetic value. The photograph at the right displays the dramatic results.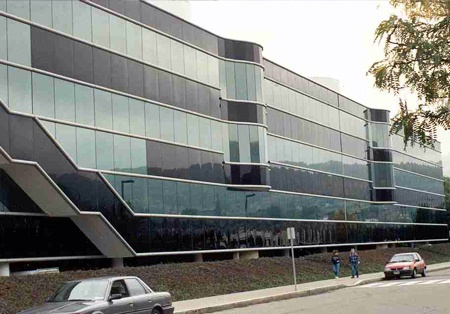 Voila! Gone from view are the distracting window treatments and occupant paraphernalia. After our process, there is nothing to detract from the beauty and elegance of the original architecture.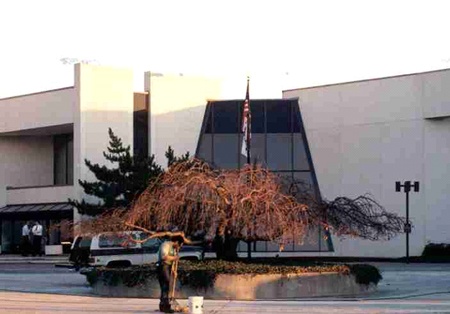 Severe heat and glare caused employee discomfort resulting in a noticeable loss in their productivity and output. Sunshield discreetly restored both efficiency and harmony to this environment eliciting positive results from its occupants.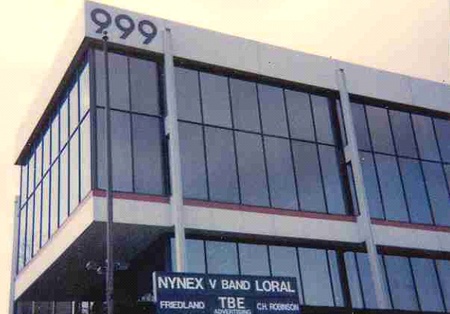 The extremely large window panels incorporated in this structure raised the specter of harm and injury in the event of vandalism, extreme weather conditions and possible terrorist attack. The application of a unique and advanced security laminate provided a high level of functional safety as well as emotional comfort for both the building occupants and property owner.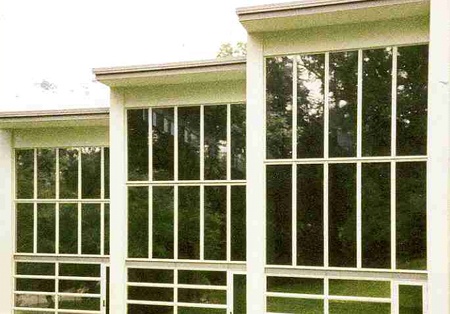 Management of unbearable solar gain was of primary concern to the owners of this South & West oriented building. Infra-Red infiltration through the glazing surface was reduced by over eighty percent after the Sunshield process.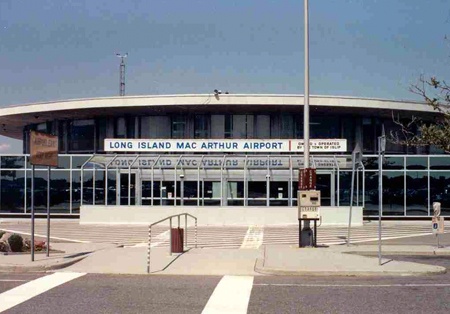 MacArthur Airport is an environment which has been transformed into one that is virtually free from unproductive glare, heat and glass security issues after a Sunshield application.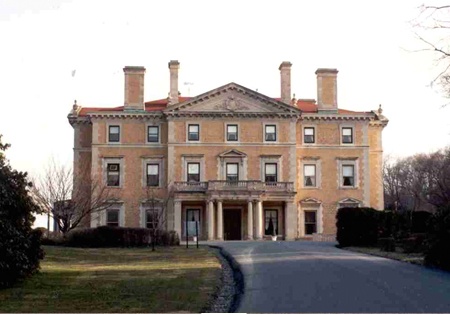 This magnificent Landmark Estate was plagued by excessive heat, glare, cold and deterioration of historic interior artifacts. Sunshield's discreet coating addressed these issues, while maintaining the architectural integrity of the structure.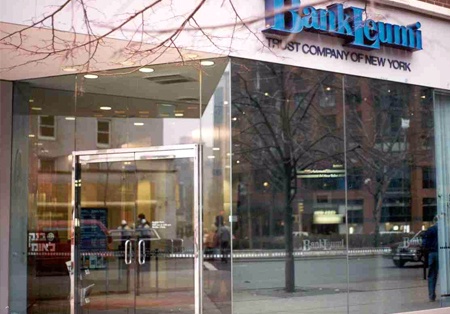 Providing security to its ATM customers was of paramount importance to this financial institution. A Sunshield coating was installed which affords privacy to consumers using the ATM service during the daytime hours, yet allows law enforcement personnel a clear interior view during the evening hours of operation.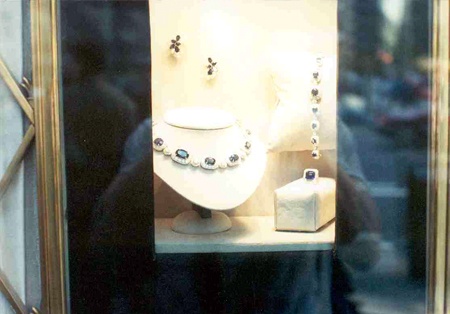 Millions of dollars worth of precious stones and jewels are protected from a common theft technique called "Smash & Grab". This sophisticated coating withstandsattacks from anything from crowbars to C-4 plastic explosives. Notice the optical clarity of the application.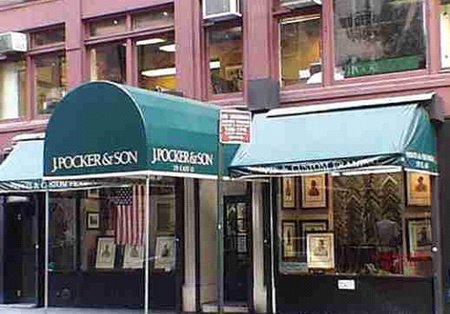 Our invisible and optically correct coating prevents one hundred percent of the damaging ultra-violet radiation from attacking valuable merchandise. Protection is achieved while allowing consumers to have a clear view of display items.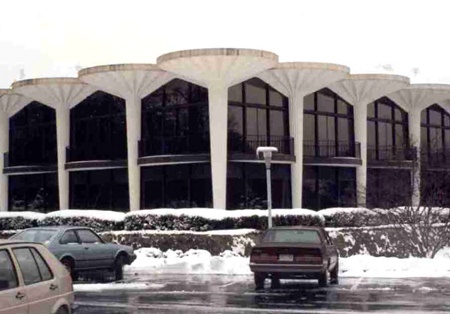 Sunshield can create a unified appearance by blending a structure's windows with the design of the building. Our coating provides a visual symmetry between glass and stone.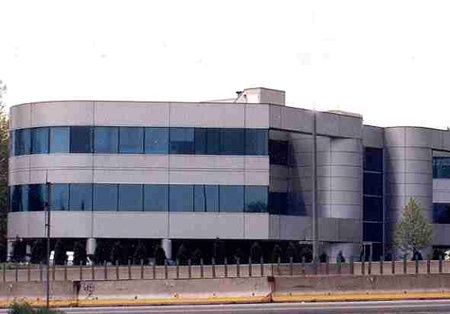 This sleek, contemporary building required protection from summer heat gain, glare as well as winter heat loss without altering the natural color of the existing architectural glass. Sunshield provided a solution offering extraordinary energy conservation characteristics while maintaining the integrity of the original glass.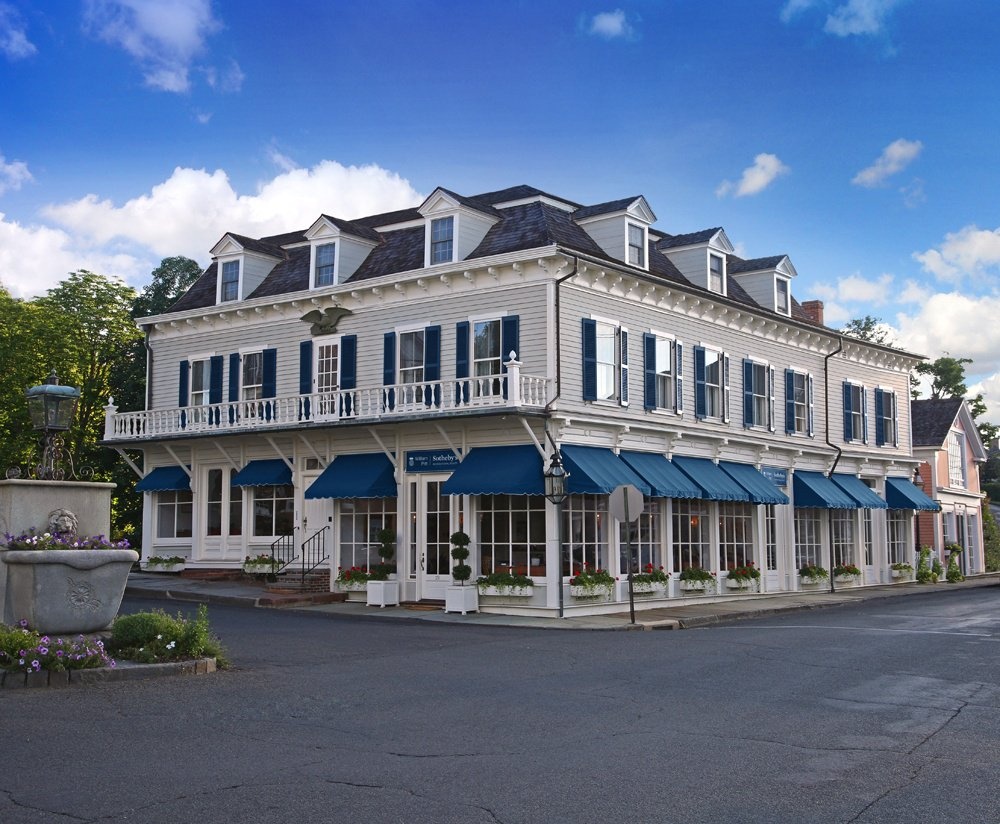 A Few of Our Select Clientele
AT&T Worldwide Networking

Bed, Bath & Beyond

Central Intelligence Agency

Children's Medical Group

Citigroup Incorporated

Columbia Pictures

Columbia University

Corning Incorporated

CVS Drugstores

Estee Lauder, Inc.
Federal Bureau of Investigation

HBO Pictures

JFK International Airport

John Jay College of Criminal Justice

Kennedy International Airport

Macy's Herald Square

Massachusetts Mutual

MasterCard International

McDonald's Restaurants

Met Life Realty Group, Inc.
Pepsico Incorporated

Pfizer Corporation

Phelps Memorial Hospital

Purchase College

Regeneron Pharmaceuticals, Inc.

Rye Town Hilton

Sarah Newman Nursing Home

Social Security Administration

Sony Pictures

Victoria's Secret

Weapons Unlimited