Sunshield has earned its impeccable reputation as a result of its capabilities and workmanship. We stand ready to provide you with the same level of expertise.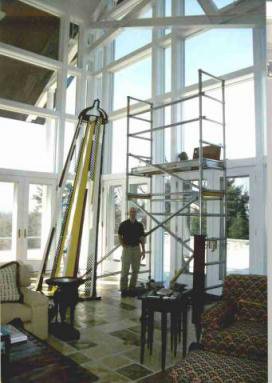 Our Senior Technician Christopher Brace performs his craft while respecting the many millions of dollars worth of sculpture and works of art which surround him.
Our company has become the standard to which others have been compared. We provide service and consultation to the most recognized museums, art galleries, conservators, private collectors, and homeowners worldwide.
The proprietary method by which we apply our product is quite unique and thus unable to be duplicated. The result is a completed process which cannot be distinguished in both integrity and quality from the original underlying glass.
In fact, since the installation technique we utilize is so highly regarded, many manufacturers commission Sunshield to help with the fabrication of their application training manuals and videos.
Sunshield can and will deliver the highest level of craftsmanship as we employ only the most skilled, honed, and knowledgeable technicians. Our staff is comfortable in the most exclusive of environments. Extraordinary care and expertise are practiced throughout every facet of the installation process. Application is achieved without disruption or disturbance and once completed; no traces of our presence will remain.
Taking extraordinary care within the environments we service is of paramount importance to Sunshield. From inception to finish, the "Sunshield Experience" is worry-free and serves to underscore our commitment to excellence.